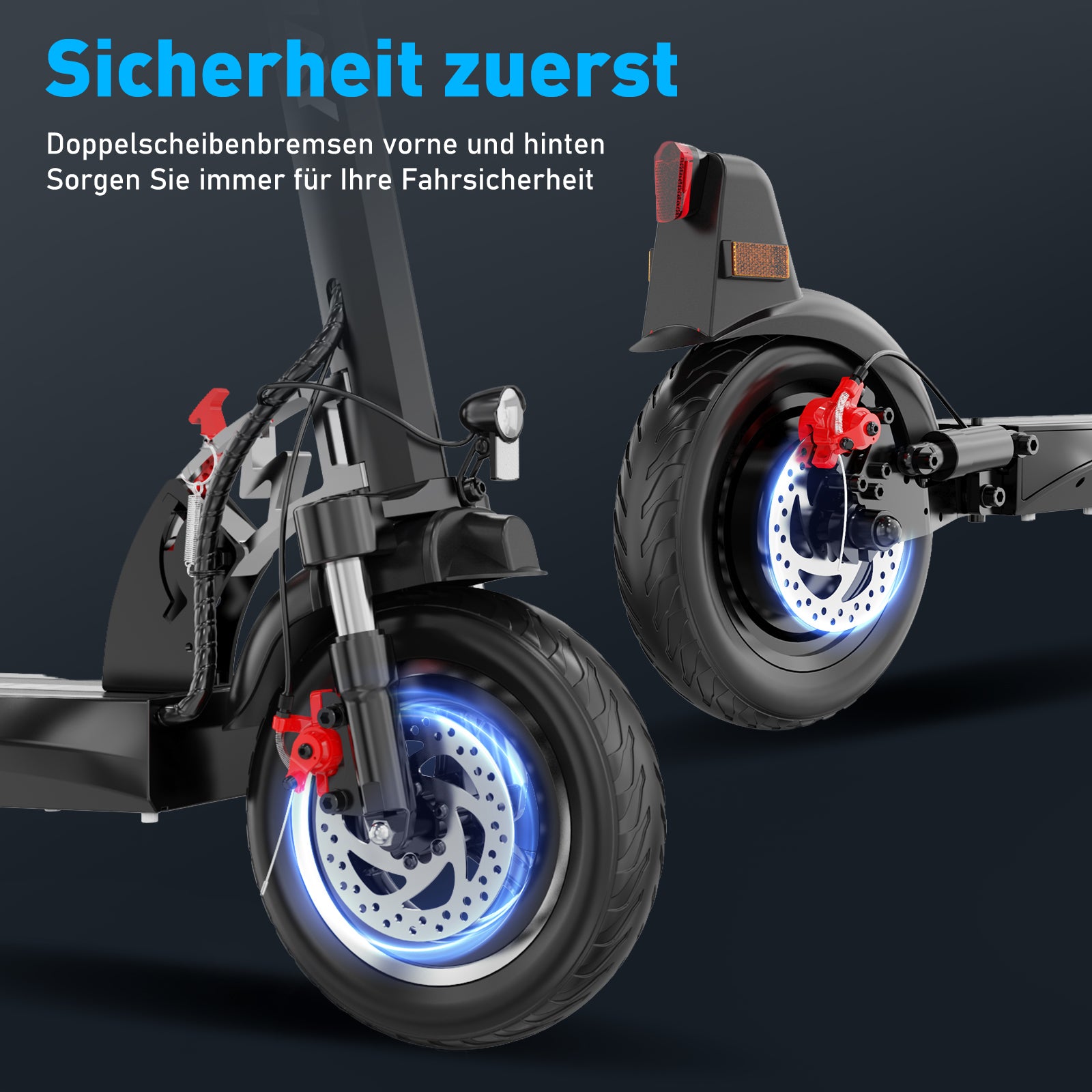 H5 ABE Electric Scooter
Versand aus Deutschland. Elektroroller mit Straßenzulassung (ABE) für den öffentlichen Straßenverkehr.

Dieser Elektroroller verfügt über 10-Zoll-Vollgummireifen für hohe Belastbarkeit und Abriebfestigkeit und ist mit zwei hydraulischen Stoßdämpfern vorne und hinten für eine komfortable Fahrt ausgestattet.


Starke Leistung

Der Motor mit einer Nennleistung von 480 W kann diesen Elektroroller mit starker und stabiler Leistung versorgen, und es gibt keine Schwierigkeiten beim Klettern. Ausgestattet mit einem großen 48V 10Ah-Akku hat der Scooter eine maximale Reichweite von ca. 30 km (je nach Gewicht des Benutzers und Straßenverhältnissen). Es gibt drei Geschwindigkeitsmodi für unterschiedliche Anforderungen: (10 km/h, 15 km/h, 20 km/h).

Verbessertes Design

Faltbares Design für einfache Lagerung, ausgestattet mit Sicherheitsschloss Design, um die Sicherheit des Benutzers zu gewährleisten. Das Doppelscheibenbremssystem verkürzt effektiv den Bremsweg. Darüber hinaus verbessert das intelligente regenerative Bremssystem die Effizienz der Energierückgewinnung. Die Lenkerhöhe kann entsprechend den Bedürfnissen von Menschen mit unterschiedlichen Körpertypen eingestellt werden.

Sicher und durchdacht

Druckknopf zum Ein- und Ausschalten des Rollers, Scheinwerfer mit hoher Helligkeit (Scheinwerfer kann per Druckknopf gesteuert werden), Reflektor (hinterer Kotflügel), Klingel und Rücklicht; Die Klingel und das Rücklicht können das Auto vor Ihnen und das Auto hinter Ihnen daran erinnern, einen sicheren Abstand zwischen den Autos zu halten und eine sichere Durchfahrt bei Tag und Nacht zu gewährleisten. 

LCD-Display

Intelligentes LCD-Display für bessere Nachtsicht, Anzeige der aktuellen Geschwindigkeit, Batterie, Kilometerstand, Gang und andere Informationen. Eingebaute Fehler-Selbsttest-Funktion, können Sie auch den Fehler durch Parameter-Code zu bewerten. Darüber hinaus haben wir auch Scooter-Zubehör für Ihren Kauf. Wenn Sie irgendwelche Fragen haben, kontaktieren Sie bitte unseren Kundenservice.
The H5 ABE Escooter * 1
Charging adapter * 1
Tool Kit * 1
Quick Operation Guide * 1
User Manual * 1
Customers may apply for a return or exchange within 30 days after receiving product(s). Refunds will be made by the same method you used to pay.
Compliant with German road regulation

Shipping from Germany. Electric scooter with road approval (ABE) for public road traffic.
LCD-Display
Smart LCD display for improved visibility at night, you can see actual speed, battery, mileage, gears etc. USB socket designed for charging mobile phones.
48V 10Ah Battery
Equipped with a large 48V 10Ah battery, the scooter has a maximum range of approximately 30km (depending on the user's weight and road conditions). There are three speed modes for different requirements
Safe Night Driving
The electric scooter is equipped with a powerful LED headlight and rear light which can move safely in a dark environment.
Long press the M button, the lights on both sides will light up.

High Engine Efficiency
Solid rubber tyres with good grip, non-slip and wear-resistant. Easy climbing on 15° slopes.

Front Shock Absorber
The fork shock absorber is very responsive and can cope well with all road conditions, giving you a smooth ride.
Compare
HITWAY Escooter Specification
The H5 ABE has been designed for German customers, this vehicle is compliant with German road regulations and you can use it with confidence. If you need to use it on non-public roads, you can choose the H5 or H5 PRO depending on your needs.