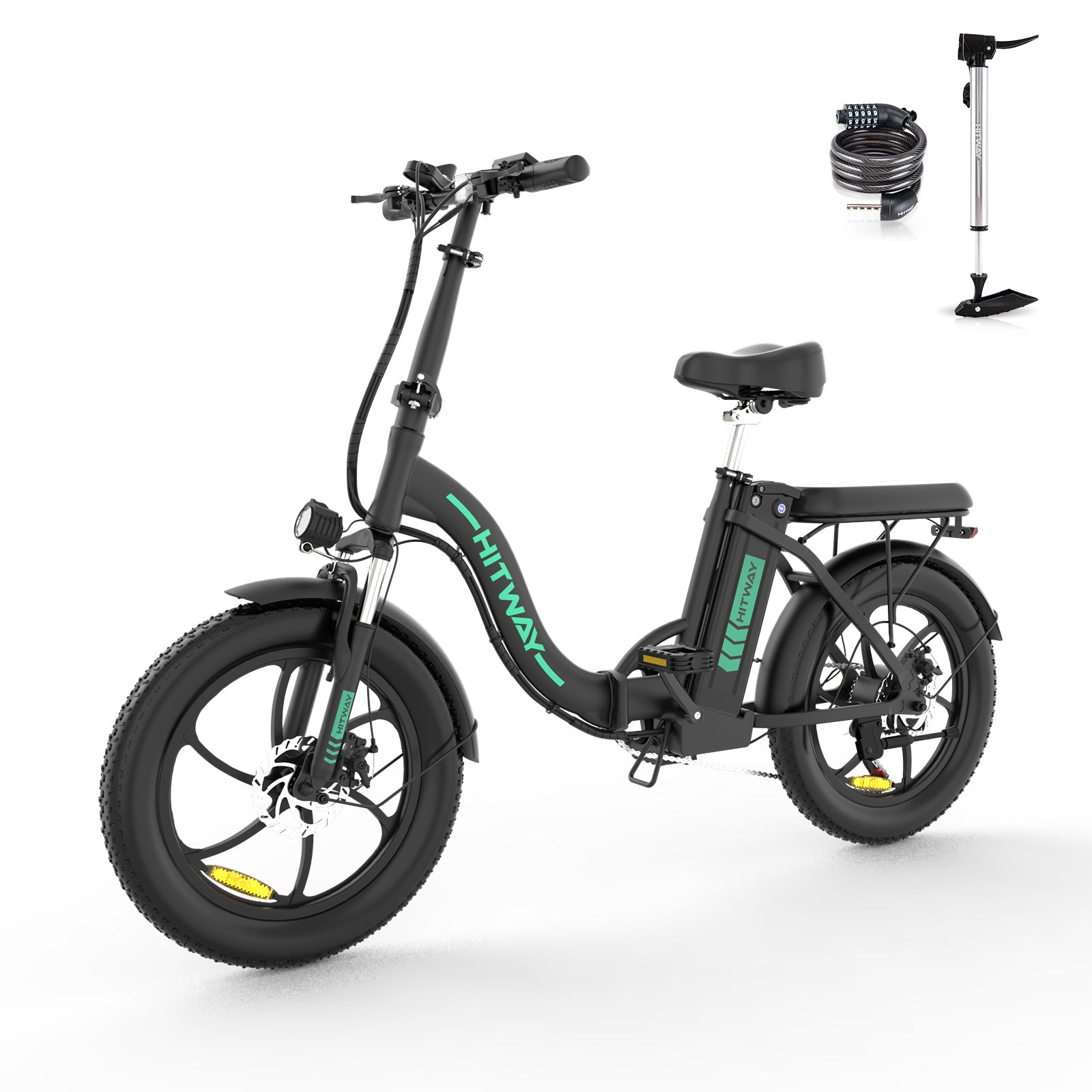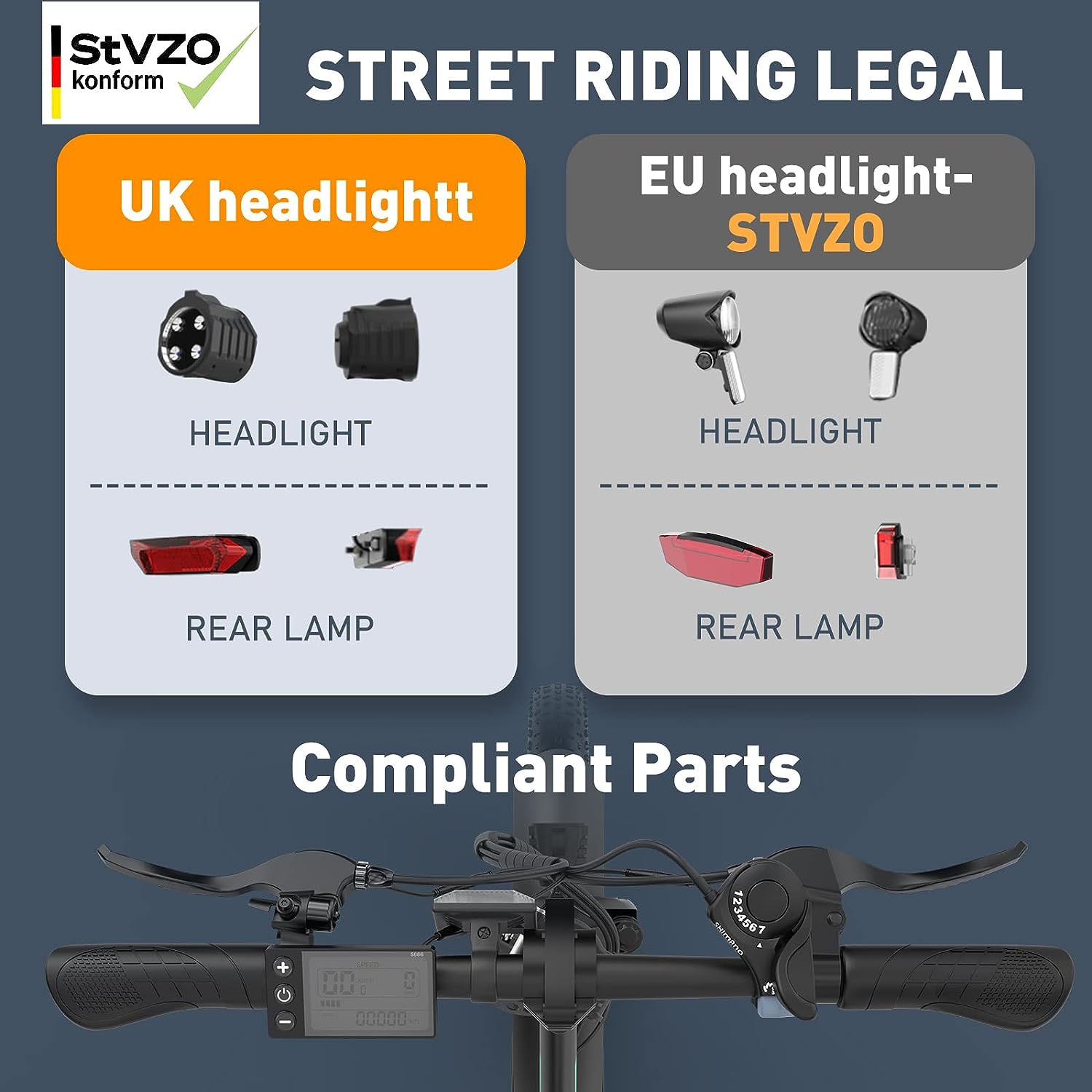 BK6S Folding Electric Bike
🚲Professional 20" Fat E-Bike

HITWAY electric bicycle is specially equipped with super-strong 3.0 professional fat tires, which are wear-resistant and anti-puncture. You can ride freely in the mountains and in the city and explore nature. You can do it by enjoying the shuttle in snow, sand, and other places.

🚲Super Powerful Motor, Super Long-distance

The HITWAY e-bike is equipped with a 250W 36V motor, which can easily climb a 25-degree slope. Built-in 11.2AH removable battery. Depending on the mode, the maximum range can be up to 35-90 km for 4-5 hours on a single charge. If you like thrills and challenges, you can ride this mountain bike for a non-stop adventure.

🚲Advanced Design

HITWAY bike features an aluminum alloy body, high strength, and net weight is only 26.6kg. The foldable design is easy to carry and space-saving. The hollow seat design is not only comfortable but also avoids water accumulation. There's also an easy-to-read LCD display (which shows battery, mileage, speed, error codes, etc.) and headlights and reflectors to keep you safe.

🚲Upgraded Shifting

You can choose from 2 riding modes (normal pedal mode and pedal assist mode). In normal pedal mode, a 7-speed Shimano transmission system and mechanical transmission gears can be realized, and you can experience a peculiar acceleration experience. In pedal assist mode, you will experience an unexpected driving experience.

🚲Excellent Shock Absorption

Equipped with a front suspension with front and seat shock absorbers, high-volume low-pressure tires also act as additional shock absorbers, providing more balance and control on rough mountain roads. The front and rear double disc brakes and electronic brakes realize all-around safe driving protection.

Complies with EU/UK road regulations

The BK6S Electric Bike is a reliable choice for those seeking a safe and legal rides, as it complies with all EU and UK road regulations and carries the necessary product certificates. Currently the BK6S is the one with the throttle removed. If you need to use the throttle, you can purchase the throttle accessory in HITWAY website.
The BK6S Electric Bike * 1
Battery * 1
Battery Charger * 1
16 in 1 Simple Tool * 1
Quick Operation Guide * 1
User Manual * 1
Bicycle Locks * 1
Bicycle Pumps *1
Customers may apply for a return or exchange within 30 days after receiving product(s). Refunds will be made by the same method you used to pay.
Compliant with EU/UK road regulation

Since the launch of HITWAY E Bike, We have listened to more demands from customers. From 2023, we will Launch compliant electric bicycles, which you can ride on public roads. As a result, the original pure electric model has been removed.
Local delivery in the EU and UK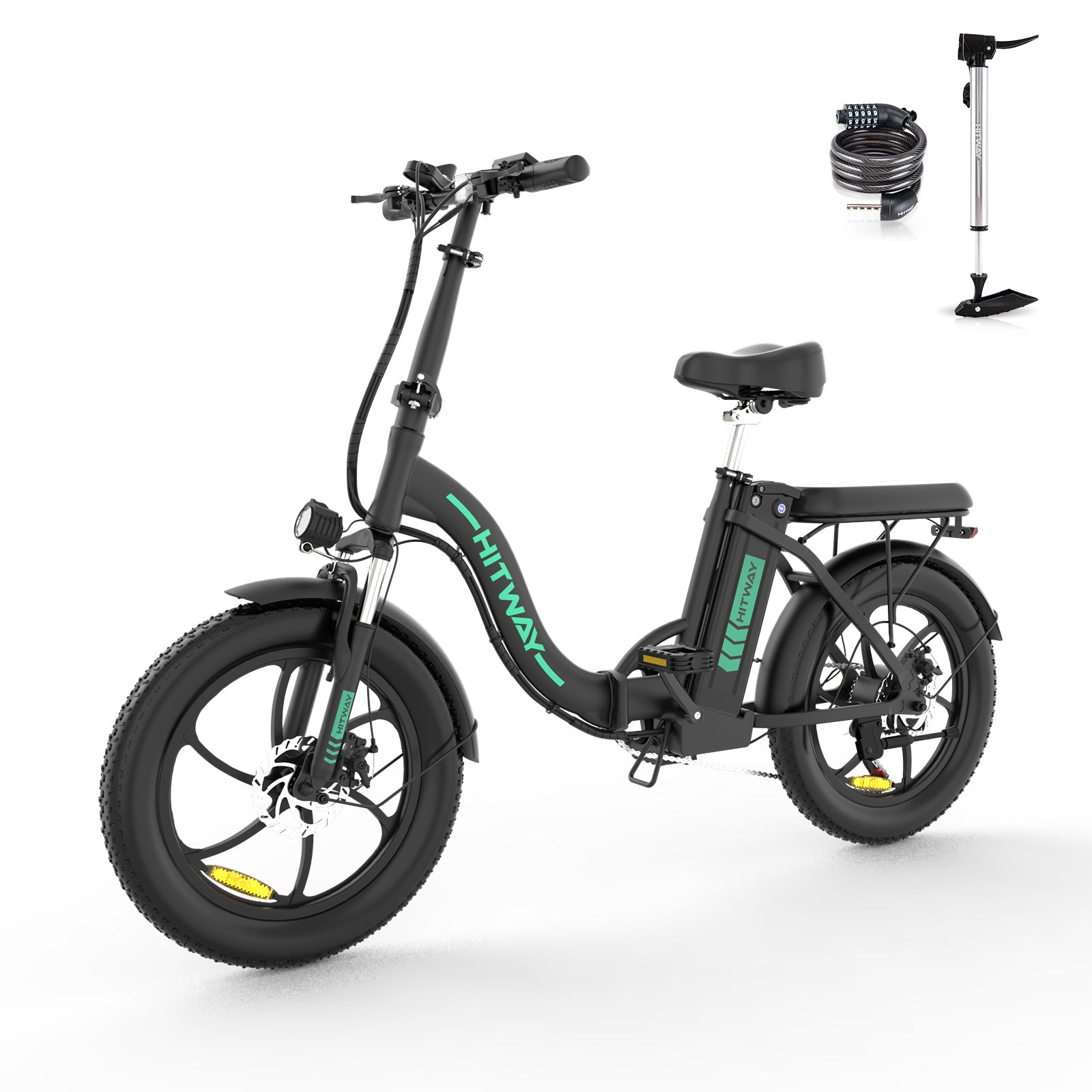 Long range, foldable, Fat-tire ebike
HITWAY BK6S folding e-bike. 20*3.0 Fat tire. for all your riding needs in all road conditions.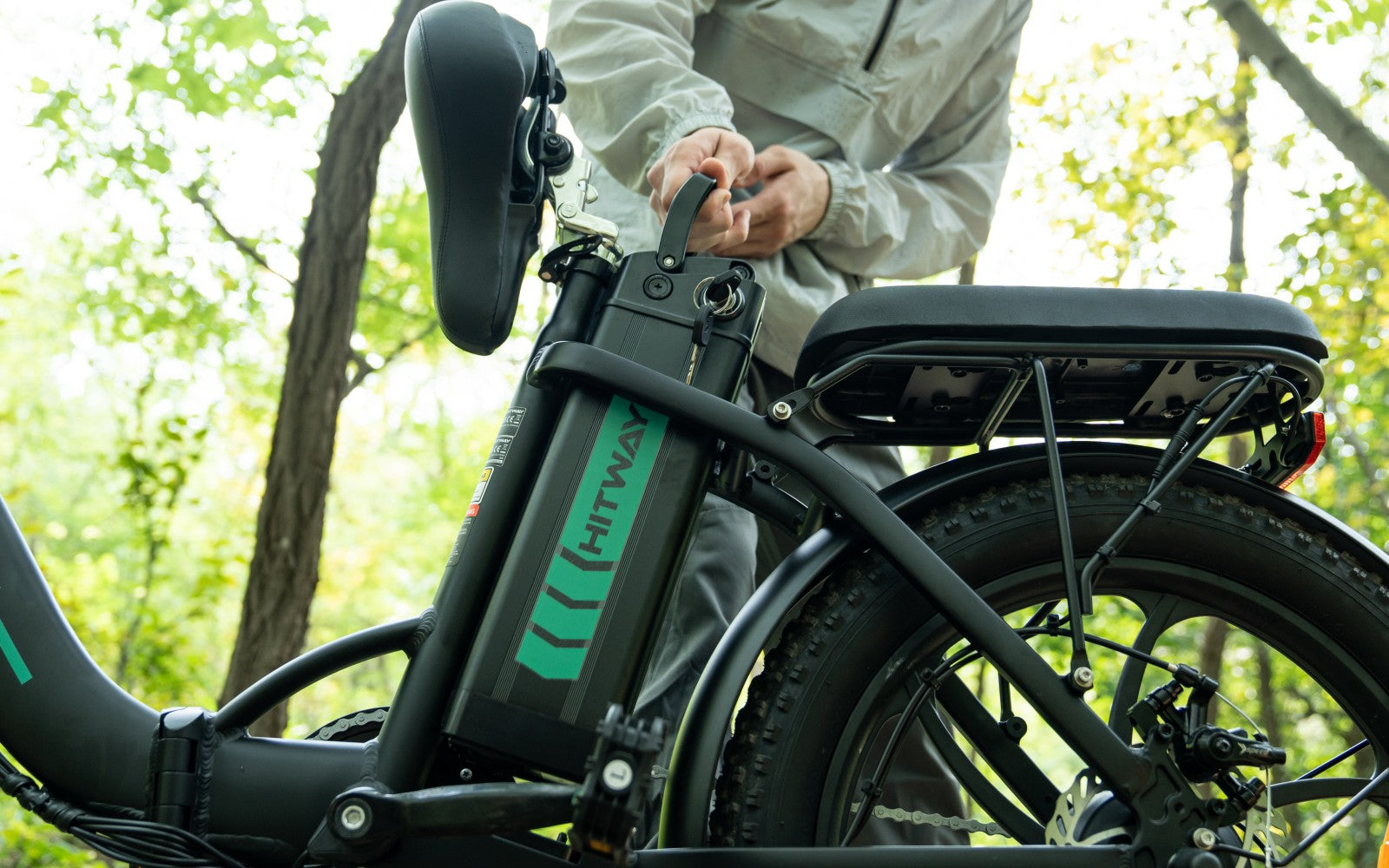 More Reliable Battery
With the latest Li-ion battery management technology, the 11.2Ah battery can really deliver 35-90km(the tester weighed 75kg)

More Linear Power Output
HITWAY newly developed electronic management technology and the latest generation of 250W and 32 N·m motors BK6S are more comfortable, more durable and comply with road safety regulations.
Headlight and Taillight
With the LED headlight and taillight design, you can have a bright ride at night. For your safety on night trips.
DUAL DISC-BRAKE SYSTEM
The sensitive brake system with the front and rear disc rotors can realize strong braking and provide sufficient security for your travel.
Foldable Aluminum Alloy Frame
The folding design in the body allows you to quickly fold and store in the trunk or at home, saving time and space.
Folding : 90cm*50cm* 79cm
Unfolding : 168cm* 56cm*120cm
B
Handlebar Height
115-128cm
FAQ
We have compiled a list of frequently asked questions about this product. If you have any questions, please feel free to contact us.
What is the difference between BK6S and BK11?

The BK6S and BK11 have the same motor power, battery and tyre width. the BK6S has one piece tyres and the BK11 has spoked tyres. In terms of the height of the user, the BK11 is more suitable for men.
Can your ebike be used legally on the roads of my country?

Since the launch of HITWAY E Bike, We have listened to more demands from customers. HITWAY ebikes are road-legal in Europe and the UK because we have removed the throttle (moped mode) and our ebikes do not exceed 25km/h. So you can use them on public roads.
If you need to use the moped mode on non-public roads, you can purchase the throttle to suit your needs.
Do I need to charge my e-bike after receiving it?

Yes, after you have received your bike we recommend that you charge it for 5 hours. Please use the charger provided by HITWAY.
This product is rated 4.9 of 5.0 stars.
It has received 21 reviews.
Elektrik Bike BK6S
Ich bin sehr zufrieden,die Lieferung war komplett und es funktioniert alles
Ieider ist gerade sehr schlechtes Wetter und ich konnte keine Probefahrt durchführen
Ottimo acquisto
Facile da montare e maneggevole. È arrivato tutto in perfetto stato e completo di istruzioni.
Robustes Fahrrad
Dieses Fahrrad ist sehr robust und zuverlässig, ich benutze es sehr beim Wandern und Campen, ich schreibe dieses Review nach einem Jahr intensiv Benutzung (4000km gefahren) , ich bin damit sehr zufrieden, ich kann es nur weiterempfehlen
Hitway Bk6S
Hallo
Das Fahrrad kam nach 4 Tagen gut verpackt an. Es macht einen hochwertigen Eindruck sowohl von den Materialien als auch von der Verarbeitung. Zubehör macht auch einen guten Eindruck. Die Motorunterstützung ist für E-Bike Anfänger gewöhnungsbedürftig da sie relativ zügig anläuft.
Comfortable
I'm in love with the HITWAY BK6S! The design is not only sleek but also stylish. The comfort level is exceptional, and the electric assist makes uphill climbs a breeze. It's perfect for city cruising, and the build quality is top-notch.