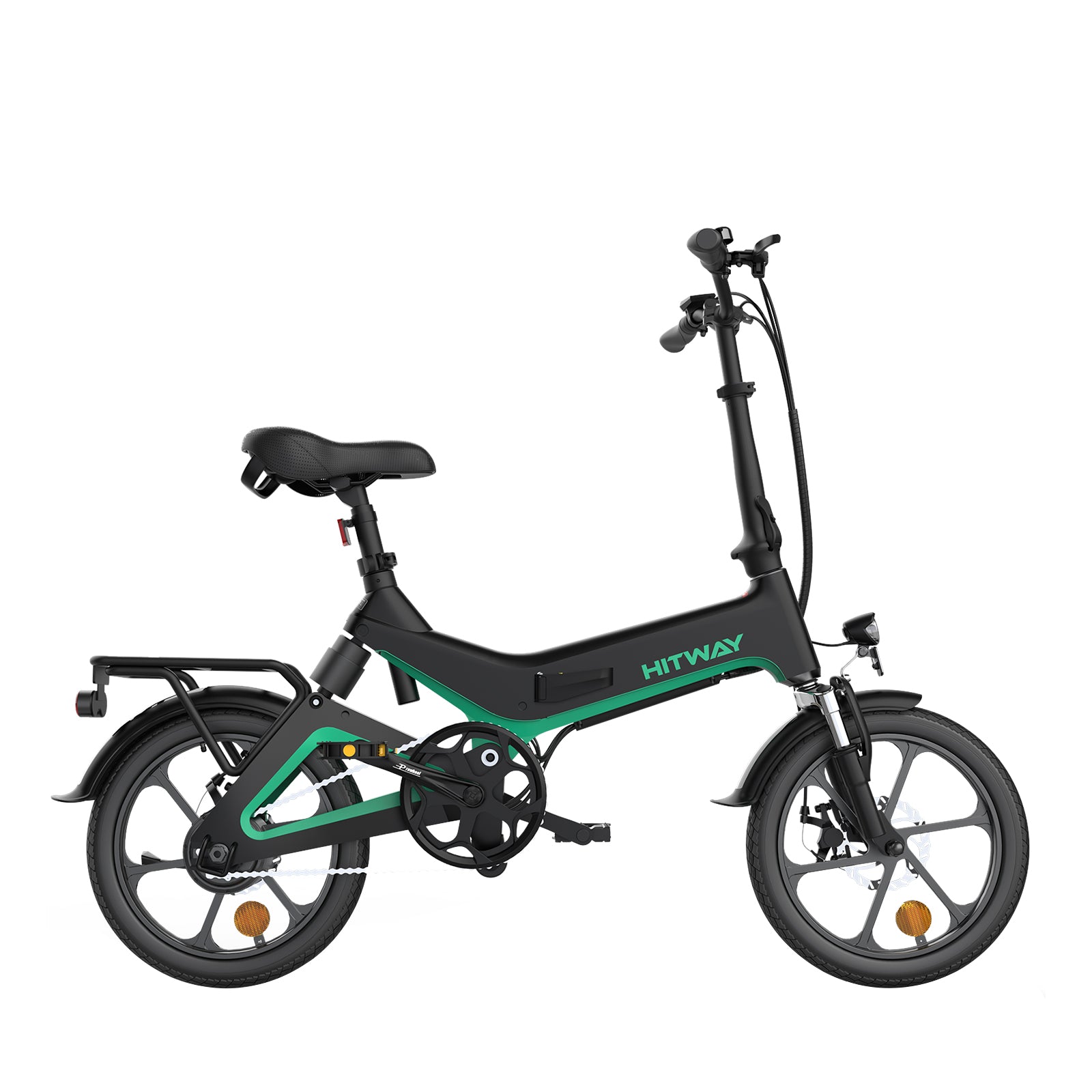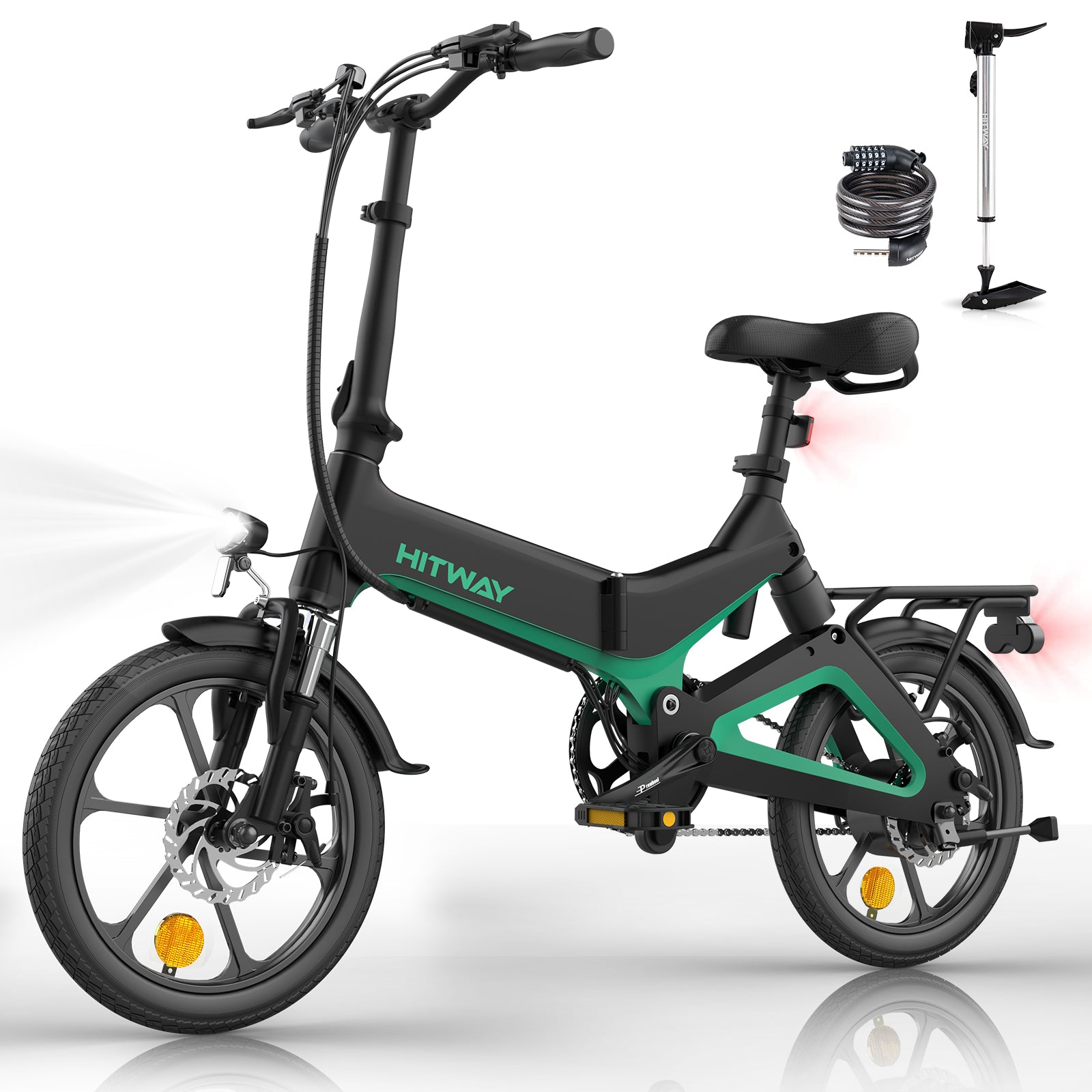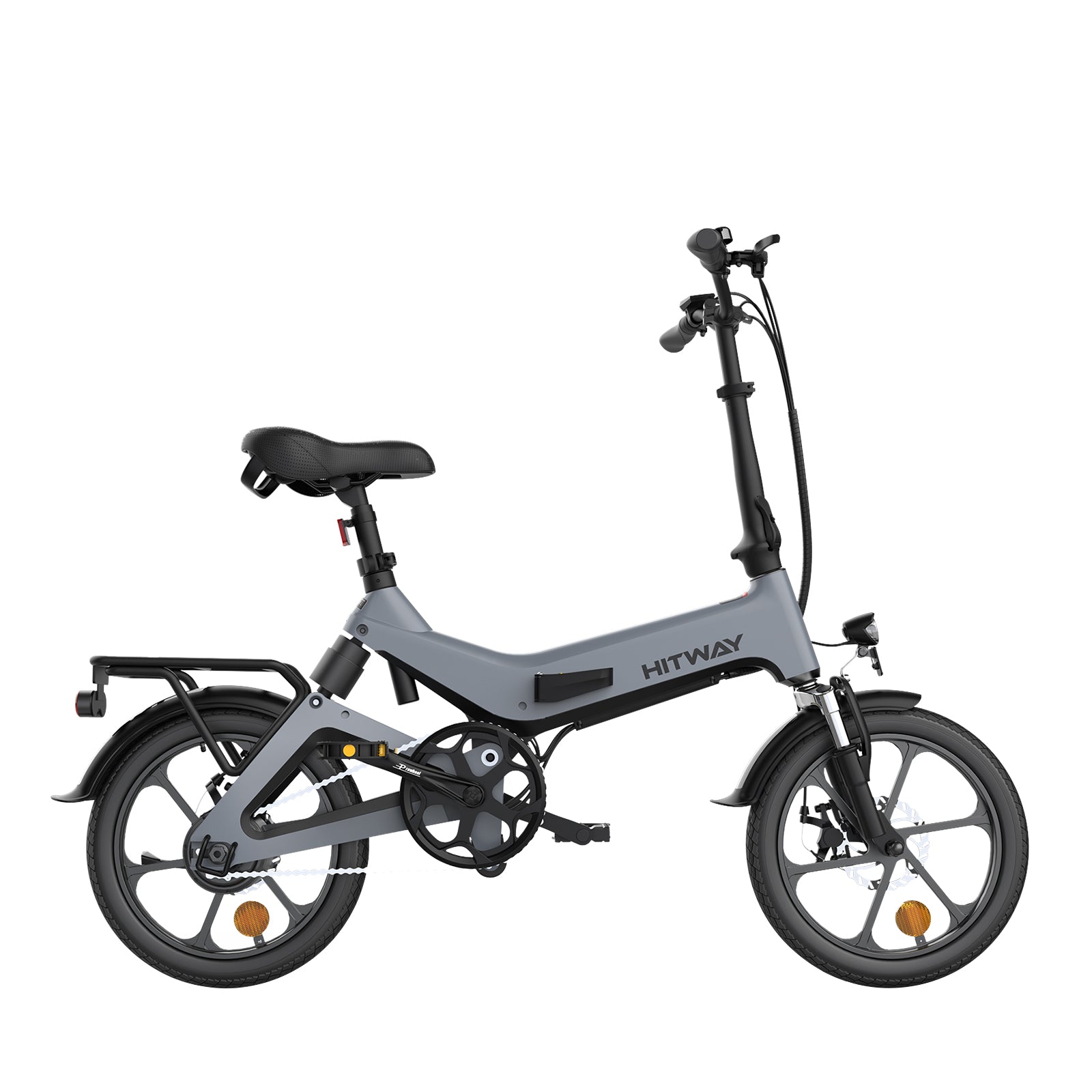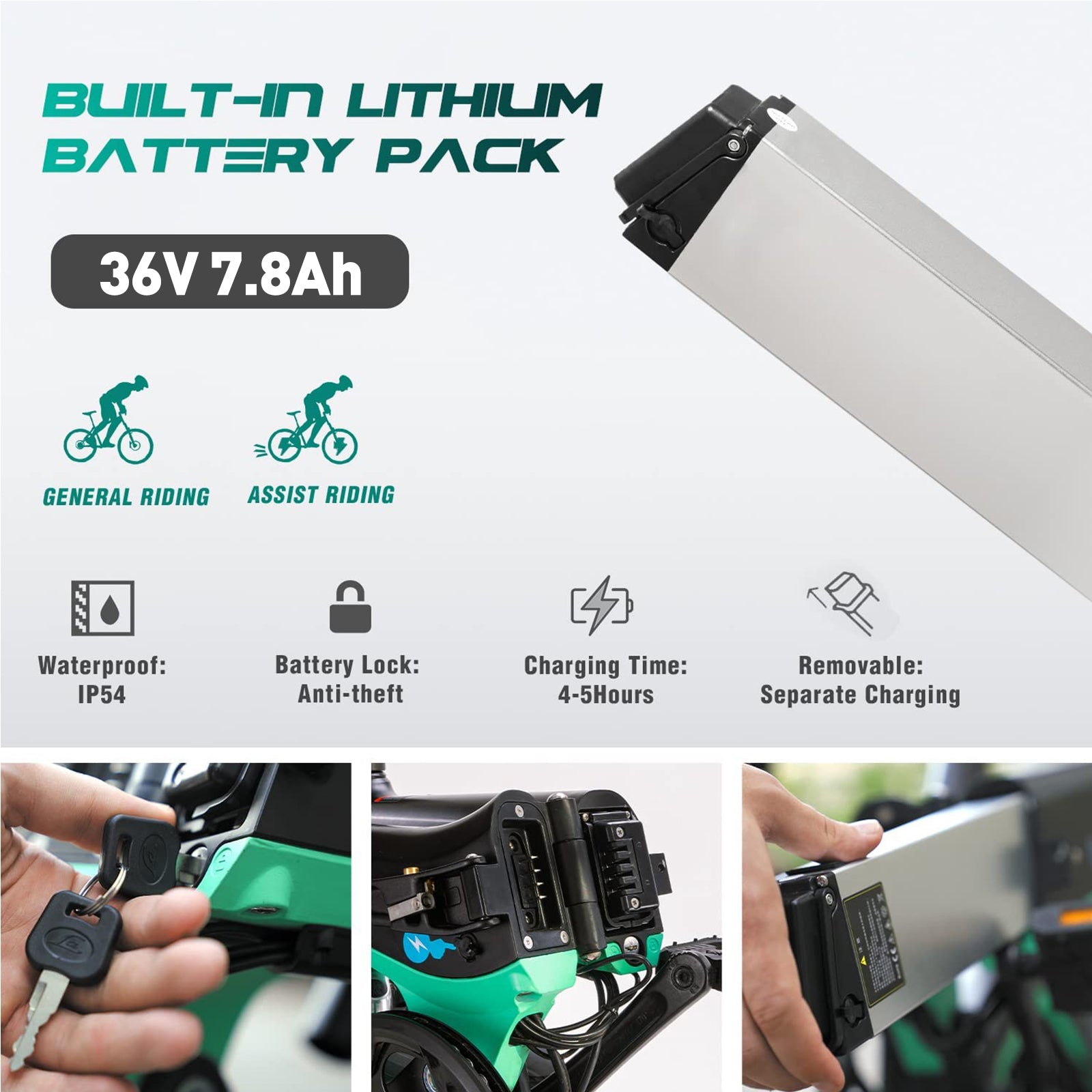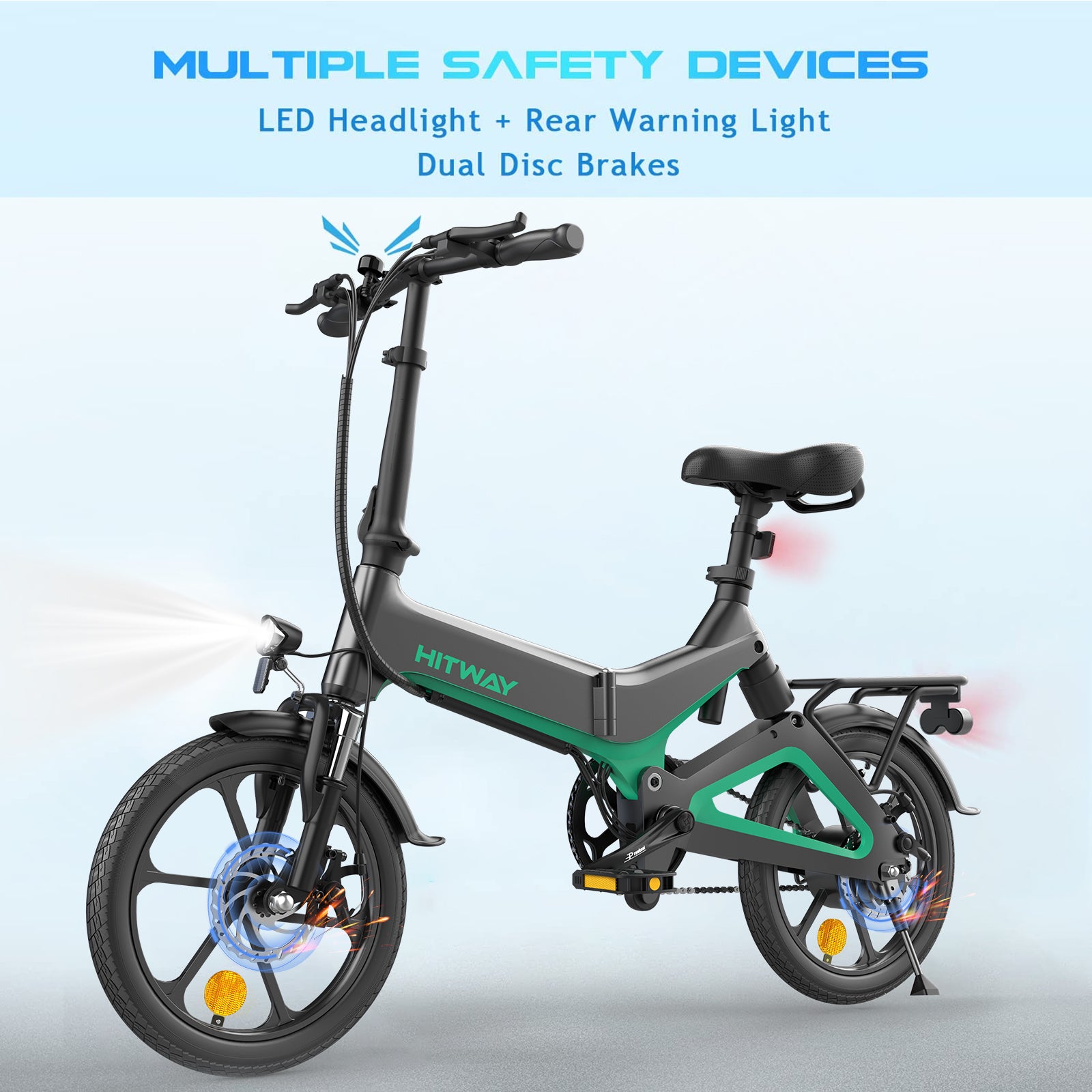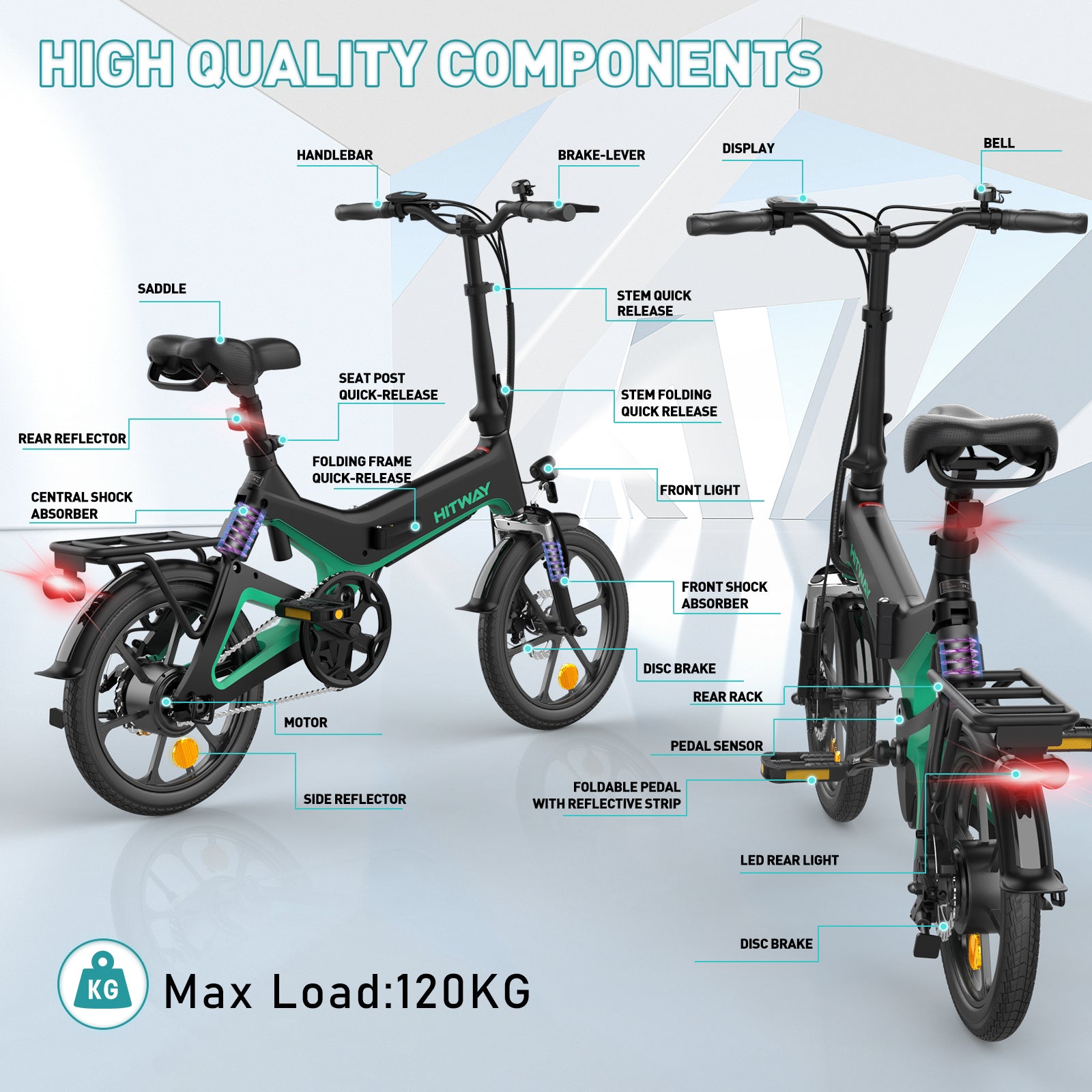 BK2 Folding Electric Bike
Powerful Motor, Super Long Range

250W 36V Motor - The highest speed can reach up to 25km/h and max 25-degree gradient. Removable Lithium Battery - The removable 7.8Ah/36V lithium battery with a maximum cruising range of 35-70km.

Premium Quality & Easy Folding Design

Folding size: 77 x 43 x 70cm, Normal size:147 x110cm. Aluminum-magnesium alloy body, low density, high strength, light, and easy to carry. (Bike net weight: 22.31kg, package weight: 27.2kg). Electric bicycles can be folded quickly, and are easy to operate and store. The max payload is 120kg. 16-inch aluminum alloy integrated tire, more powerful grip. Front fork shock absorption and middle shock absorption, make riding more comfortable and stable.2

Working Modes and Adjustable Heights

You can choose pure electricity mode and moped mode. Three-speed speed regulation and smart meter display. Adjustable heights of saddle and handlebar for different heights of people to find the perfect position for a comfortable ride. Fits teenagers and adults.

Safe Driving Protection

Front and rear dual disc brakes plus electronic brakes, pinch the brakes, and the motor will be powered off first. In addition, customized front and rear disc brakes provide more travel protection. Safe LED front light & horn make you safer when riding on the way. Especially at night. because you'll be seen & heard by both cars & pedestrians.

Built-in Large Battery Powerful Endurance

Large-capacity lithium battery module, electronic control system, charger, and three-in-one integrated design make the bike structure more compact, lighter, and more convenient to operate.

Complies with EU/UK road regulations

The BK2 Electric Bike is a reliable choice for those seeking a safe and legal rides, as it complies with all EU and UK road regulations and carries the necessary product certificates. Currently the BK2 is the one with the throttle removed. If you need to use the throttle, you can purchase the throttle accessory in HITWAY website.
The BK2 Electric Bike * 1
Battery * 1
Battery Charger * 1
16 in 1 Simple Tool * 1
Quick Operation Guide * 1
User Manual * 1
Bicycle Locks * 1
Bicycle Pumps *1
Customers may apply for a return or exchange within 30 days after receiving product(s). Refunds will be made by the same method you used to pay.
Compliant with EU/UK road regulation

Since the launch of HITWAY E Bike, We have listened to more demands from customers. From 2023, we will Launch compliant electric bicycles, which you can ride on public roads. As a result, the original pure electric model has been removed.
Local delivery in the EU and UK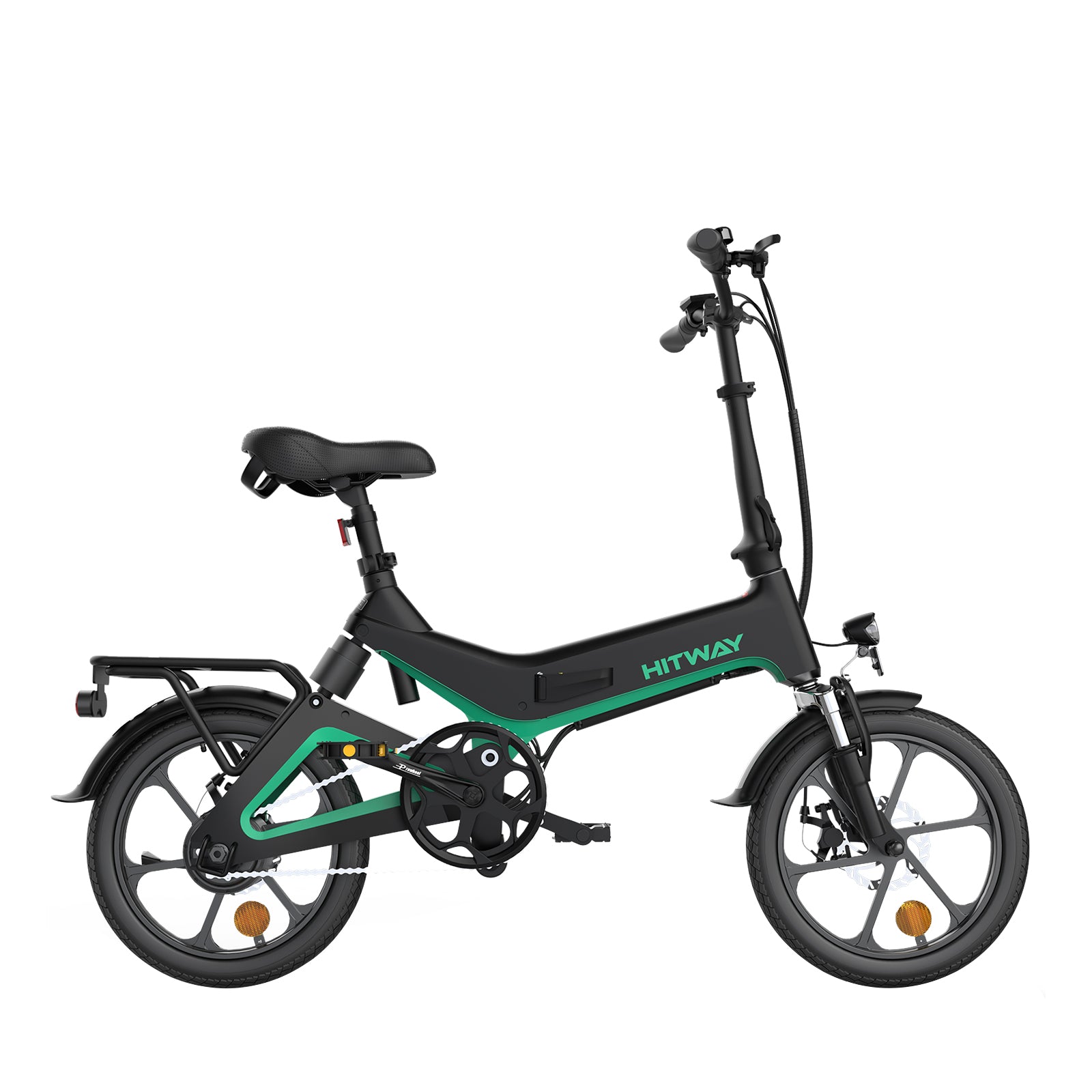 Quick Fold Design
As a great folding e-bike, BK2 has a clever folding structure with quick release design on the handlebars, body, seat and pedals, just like a transformer, that will ensure you can transform it from a compact fold to a travel tool that takes you across town in minutes.
Dual Shock Absorption
With the front wheel suspension system and the body of the center shock absorption system, you can easily deal with a variety of road conditions, bringing a more comfortable riding experience.
Removable Battery
The 7.8Ah removable battery provides long power for a maximum range of 35-70km in assisted riding mode.(Affected by road conditions and rider weight)
More Details
Safety Lighting System
Ride with confidence and safety with HITWAY high-performance headlight.
Comfortable Riding
Portable electric bicycle tires are 16-inch vacuum tires, has excellent grip and cushioning ability.
Seat design
The rear seat design adds to the utility of this compact folding bike, allowing you to equip it with a hanging bag or carry cargo.
Instrument Display
Multifunctional LCD screen
B
Handlebar Height
99-115cm
D
Standover Height
82-96cm
This product is rated 4.9 of 5.0 stars.
It has received 7 reviews.
Adatto al pendolarismo
La consiglio è molto conveniente e salva spazio se hai bisogno di una mobilità comoda da portare in macchina oppure per andare a lavoro se in caso stai a pochi kilometri è ottimo
BK2 Folding Electric Bike
A great ebike: highly recommended!
The Hitway BK2 is a truly fabulous ebike, which surprised me for a lot of reasons that I'll explain. It has a very advantageous price and, after comparing it with other e-bikes, it seemed to me the best in the market in relation to the quality/price on this type of model. I can assure you that the data in the specifications are true, because I tested it for two weeks every day, discharging the battery completely each time. These are my results:
1. The battery is 35 km in fully ebike mode, as the specifications say, if the cyclist's weight is between 70 and 80 kilos. I weigh more than 90 kilos and it easily goes 28 kilometers in full electric mode, that is, with the gear always set to 5. It's obvious that if I live in the mountains, the climbs decrease battery performance.
2. I used it on asphalt and on unpaved roads (dirt, gravel and grass) and there was almost no difference: it kept the speed at 25 km/h, the stability was perfect and the battery covered about 33.7 km. So almost the best.
3. Good harmonizers: solid and efficient.
4. The stability is excellent, the wheels hold their tightness well. They are 16 inches and in my opinion, - but this is my opinion - this makes the BK2 a hybrid between an urban ebike and a trekking ebike. For me this is fabulous and practical, because the bike thus becomes an all-terrain vehicle that mixes fun with utility.
5. It is ideal for those who work and must take buses and trains. I use it to go to work (and to relax in my free time), I have to take the bus and a regional train (which therefore impose limited measures that must be respected and that are not those of an Intercity or a Red Arrow). The bike folds up in less than a minute, it's very comfortable and I can use it in all companies.
6. Attention!!! : it's an ebike that has a lot of sprints, perhaps because the engine is rear (you always use a helmet). When starting in the fifth turn, in sharp turns, if you ride, you need to know how to use it. But this is a positive fact because if used well it has a greater start than others.
7. The brakes are fantastic: I braked abruptly a couple of times (crosswalks and a car that didn't respect the precedents) and it brakes very well even in the wet. This, together with the cushioning and tires, make the BK2 one of the safest ebikes (pay attention to those companies that don't care about this aspect).
Finally, I 100% recommend this ebike for everything I've written.
Très bonne achat !
Le BK2 et super, la livraison a été rapide en une semaine et le service après vente très réactif à mes question.
Je met juste 2 étoiles car sur ce model de velo le top du top aurait été d'avoir un plateau avec plussieurs vitesses, il ne lui manque que ça.
Merci Hitway pour ce super vélo !
Excellent service client
Le service avant-vente et après-vente était excellent car je devais demander une prime gouvernementale et le service client me fournissait les documents dont j'avais besoin. 👍 MERCI HITWAY