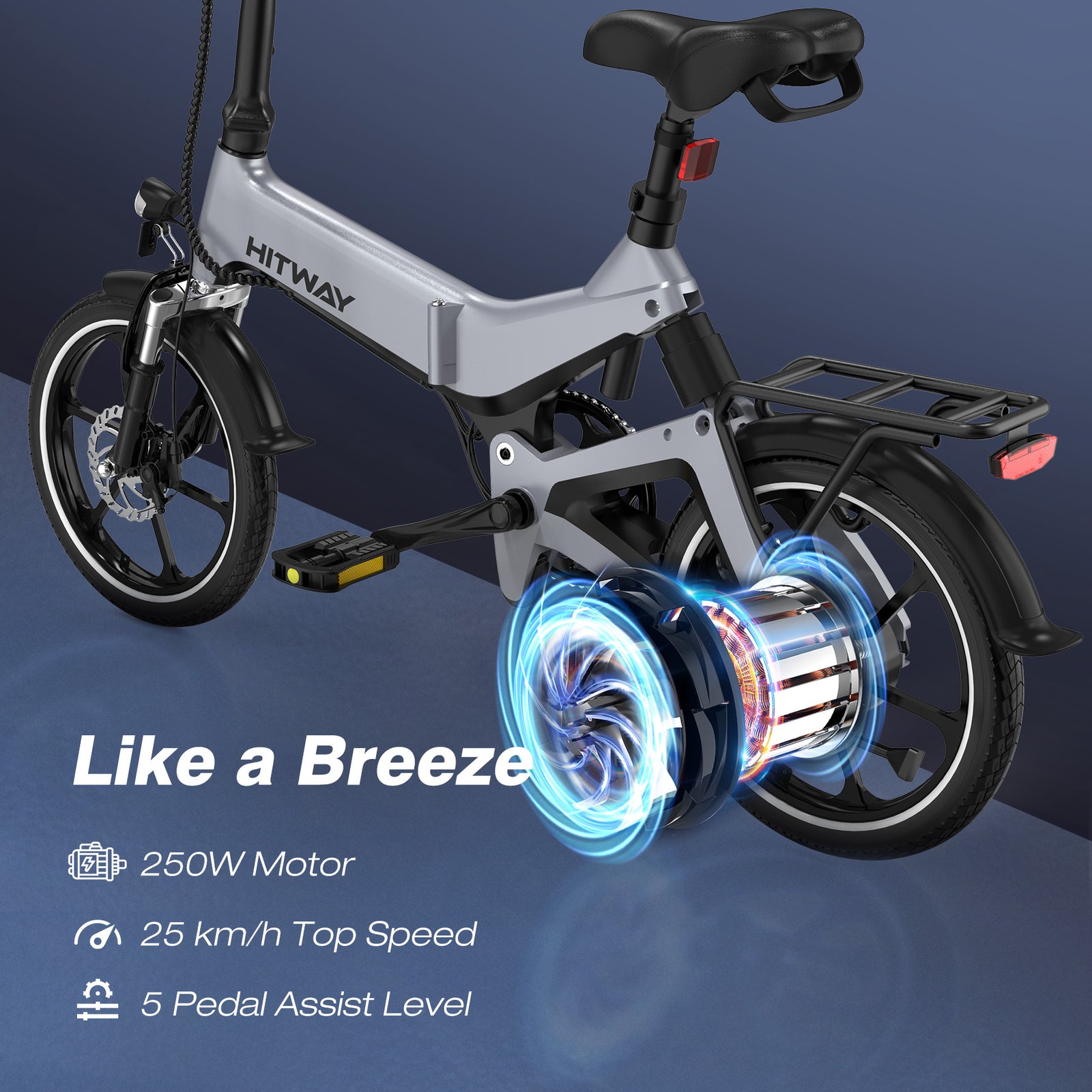 BK9 Electric Bike
26*4.0 Inch E-Bike

The HITWAY electric bicycle is equipped with robust 26*4.0 inch all-terrain tires, perfectly suited for a diverse range of terrains and road conditions. Whether it's daily commuting or outdoor adventures, this comfortable electric bicycle stands as the optimal choice for you.

High-Capacity Battery and Impressive Range

The HITWAY electric bicycle is powered by a removable 48V 15Ah lithium-ion battery, providing an impressive range of up to 55 km on a full charge (subject to charging, temperature, road conditions, driving mode, etc.). It caters to your daily commuting and outdoor riding needs.

2 Riding Modes and 7 Speeds

This electric bicycle offers two distinct riding modes, allowing you to effortlessly switch between different modes based on your preferences and the prevailing road conditions, providing an additional boost at the mere touch of a button. The bicycle is also equipped with seven speeds, front and rear disc brakes, front fork suspension, and seat suspension, ensuring a safer and more comfortable riding experience.

Unique LCD Display

The multifunctional LCD display showcases essential information such as speed, mileage, gears, and failure alerts. Additionally, it is fitted with a headlight (compliant with STVZO standards) and reflective strips, enabling secure nighttime riding.

Easy Installation

This bicycle is accompanied by a comprehensive assortment of accessories and tools within the package, along with detailed installation instructions. Please do not hesitate to reach out to us should you encounter any queries during the installation or usage process.

Complies with EU/UK road regulations

The BK9 Electric Bike is a reliable choice for those seeking a safe and legal rides, as it complies with all EU and UK road regulations and carries the necessary product certificates. Currently the BK9 is the one with the throttle removed. If you need to use the throttle, you can purchase the throttle accessory in HITWAY website.
The BK9 Electric Bike * 1
Battery * 1
Battery Charger * 1
16 in 1 Simple Tool * 1
Quick Operation Guide * 1
User Manual * 1
Bicycle Locks * 1
Bicycle Pumps *1
Customers may apply for a return or exchange within 30 days after receiving product(s). Refunds will be made by the same method you used to pay.
Compliant with EU/UK road regulation

Since the launch of HITWAY E Bike, We have listened to more demands from customers. From 2023, we will Launch compliant electric bicycles, which you can ride on public roads. As a result, the original pure electric model has been removed.
Local delivery in the EU and UK
Long battery life, fat tires, strong power.
26*4.0 tires, 48V 15Ah battery, HITWAY latest mountain bike with fat tires.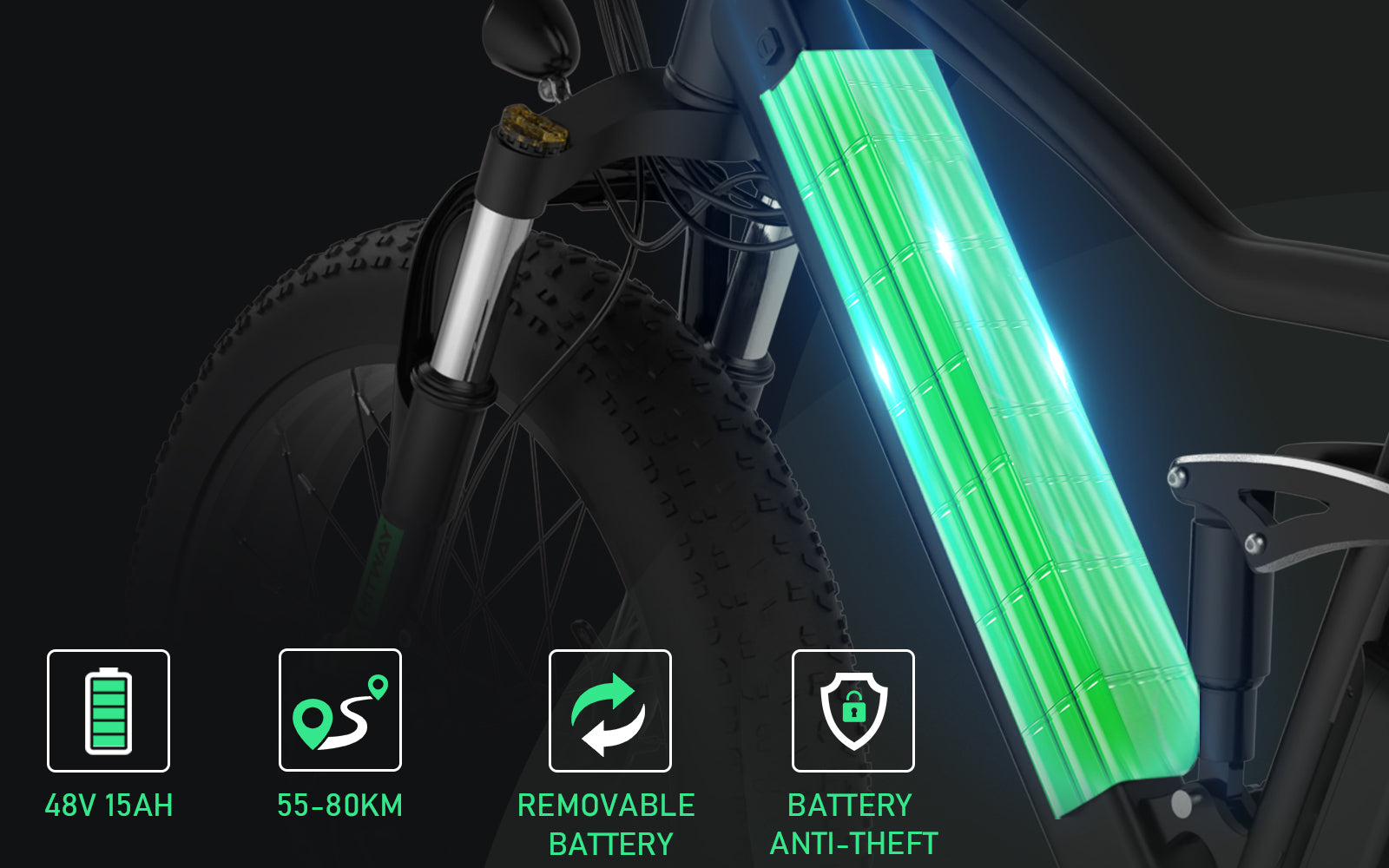 Powerful Battery Life
Equipped with 48V 15AH battery, with a range of more than 55km, you don't need to worry about the power shortage for long time riding, and you can fully enjoy the fun of the journey.
Shock Absorbing and Comfortable
Adopting front and centre dual shock absorber design, the front shock absorber can be adjusted to provide a more stable and comfortable riding experience and reduce the bumpy feeling, making your ride more comfortable.
Powerful Performance
Equipped with a 250W motor, the maximum speed reaches 25km/h, which can easily cope with various road conditions and meet different needs of riding speed, bringing a smooth riding experience.


Mountain ebike models
The aluminum alloy body is equipped with 26*4.0 wide tires. Help you conquer all kinds of terrain.
Dual Disc-Brake System
The sensitive brake system with the front and rear disc rotors can realize strong braking and provide sufficient security for your travel.
Gross/Net
38kgs/31.5kgs(83.78lbs/69.45lbs)
FAQ
We have compiled a list of frequently asked questions about this product. If you have any questions, please feel free to contact us.
Can your ebike be used legally on the roads of my country?

Since the launch of HITWAY E Bike, We have listened to more demands from customers. HITWAY ebikes are road-legal in Europe and the UK because we have removed the throttle (moped mode) and our ebikes do not exceed 25km/h. So you can use them on public roads.
If you need to use the moped mode on non-public roads, you can purchase the throttle to suit your needs.
Do I need to charge my e-bike after receiving it?

Yes, after you have received your bike we recommend that you charge it for 5 hours. Please use the charger provided by HITWAY.
This product is rated 5.0 of 5.0 stars.
It has received 1 review.
good ebike
tres bon velo , puissant et beau , rien a redire pour le moment