BK3S Electric Bike
Super Removable Battery

The HITWAY electric bike has a 36V, 14AH superpower battery that can be fully charged in about 6 hours. The battery is removable, so you can use the key to remove the battery and charge it anywhere.

Excellent Motor, Great Power

250W powerful motor provides you with smooth and efficient power support at all times. Three gears are adjustable, and the top speed can reach 25km/h. You can also feel 25° pressure-free climbing.

2 Riding Modes and 7 Gears

There are three modes: Bike Mode, Electric-Assist Mode. Shimano 7-speed transmission is more than enough for your riding needs. The best choice for long-distance travel or daily commuting!

Smart LCD Display

The HITWAY BK3S has a smart LCD display that detects various information such as speed, mileage, and battery level in real-time. It allows you to activate various functions through simple on-screen operations and fault self-tests to make driving easier.

Comfortable, Safer

Front and rear disc brakes and electronic brakes provide full safety for your ride. Front fork shock absorption reduces bumps and gives you a comfortable ride. Adjustable seat, bright headlight, and taillight for a comfortable and sporty ride.

Complies with EU/UK road regulations

The BK3S Electric Bike is a reliable choice for those seeking a safe and legal rides, as it complies with all EU and UK road regulations and carries the necessary product certificates. Currently the BK3S is the one with the throttle removed. If you need to use the throttle, you can purchase the throttle accessory in HITWAY website.
The BK3S Electric Bike * 1
Battery * 1
Battery Charger * 1
16 in 1 Simple Tool * 1
Quick Operation Guide * 1
User Manual * 1
Bicycle Locks * 1
Bicycle Pumps *1
Customers may apply for a return or exchange within 30 days after receiving product(s). Refunds will be made by the same method you used to pay.
Compliant with EU/UK road regulation

Since the launch of HITWAY E Bike, We have listened to more demands from customers. From 2023, we will Launch compliant electric bicycles, which you can ride on public roads. As a result, the original pure electric model has been removed.
Local delivery in the EU and UK
Quick and Smooth, with Predictable.
HITWAY BK3S mountain ebike, easy-to-control power and a long-lasting removable battery.
Removable Battery
The removable battery has a capacity of 36V 14Ah, providing a range of 45km-100km on a single charge. Enjoy longer rides without worrying about running out of power with our reliable and efficient battery.
 Extraordinary Performance Moter
BK3S is equipped with a 250w motor, providing powerful acceleration and smoother riding experience. Effortlessly climb hills and navigate through rough terrains with our high-performance motor.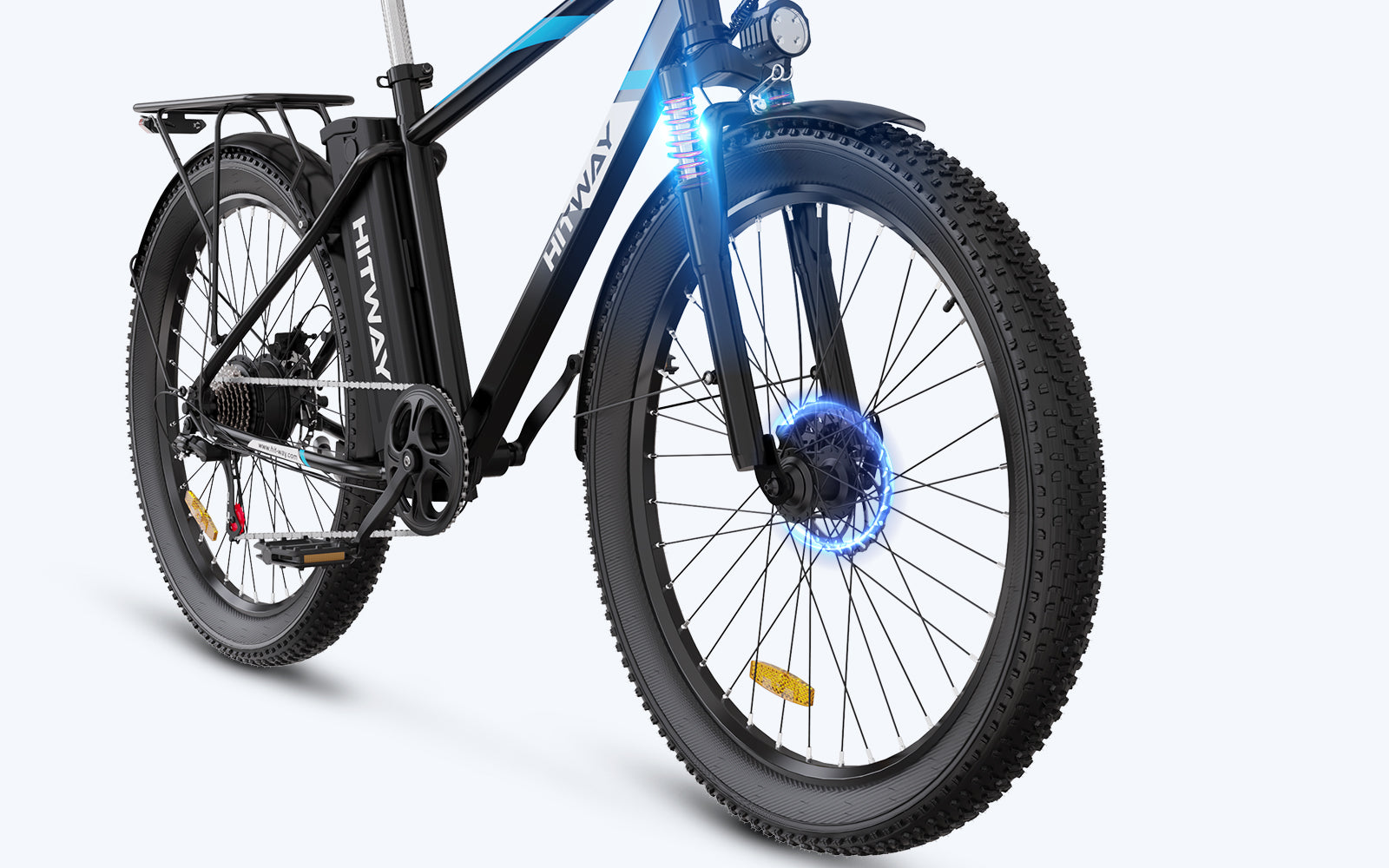 Fork Shock Absorption
The hydraulic front fork is very balanced and provides a lot of comfort without sacrificing control. Enjoy a smooth and comfortable ride with our advanced suspension system and durable brakes that deliver exceptional performance.
Multifunctional LCD Screen
BK3S has an intelligent LCD display that shows various information such as speed, mileage and battery level in real time. It allows you to activate various functions with simple screen operations to make driving easier.
More Details
Front Light
BK3S features a powerful front light to provide visibility and safety for nighttime riding.
Handle Bar
The 7-speed Derailleur provides slightly better acceleration and higher speeds.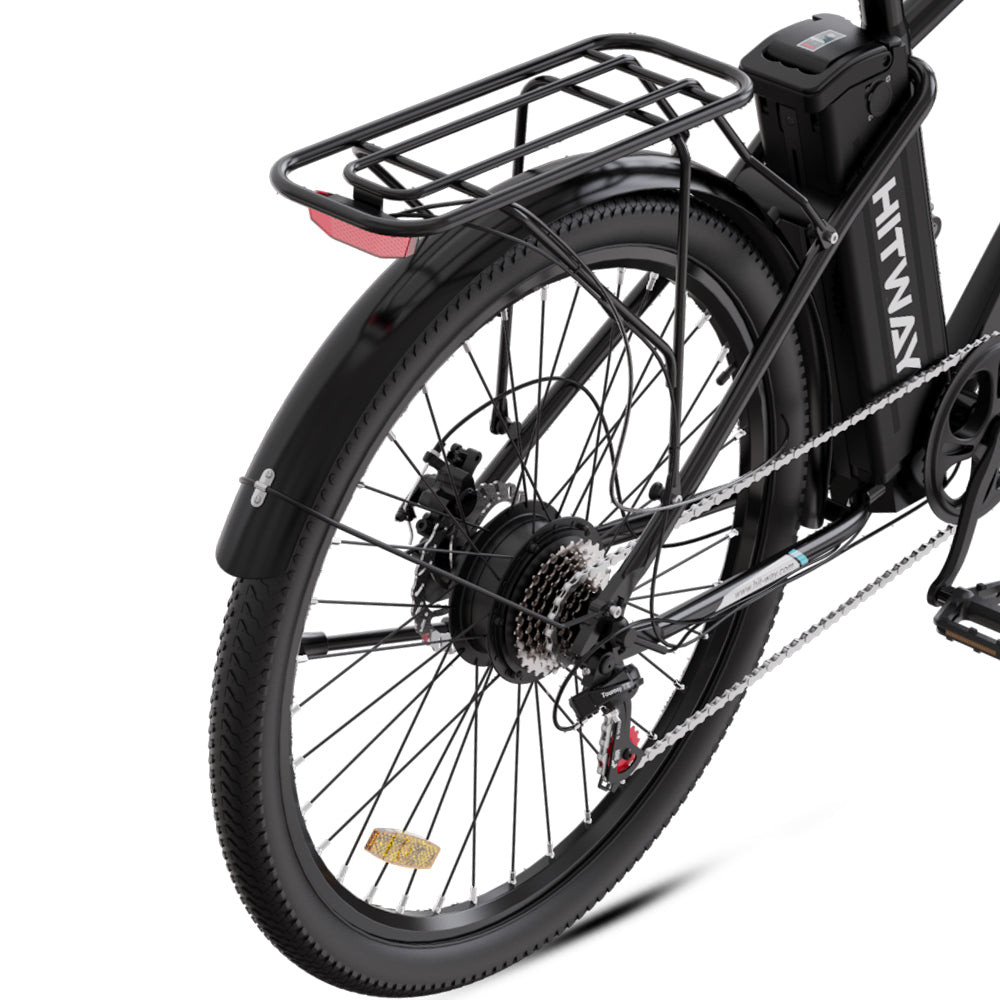 Rear Seat Design
35kg rear seat load. Supports you in carrying cargo or equipped with a bike hanging bag.
Instrument Display
Multifunctional LCD screen
FAQ
We have compiled a list of frequently asked questions about this product. If you have any questions, please feel free to contact us.
Can your ebike be used legally on the roads of my country?

Since the launch of HITWAY E Bike, We have listened to more demands from customers. HITWAY ebikes are road-legal in Europe and the UK because we have removed the throttle (moped mode) and our ebikes do not exceed 25km/h. So you can use them on public roads.
If you need to use the moped mode on non-public roads, you can purchase the throttle to suit your needs.
Do I need to charge my e-bike after receiving it?

Yes, after you have received your bike we recommend that you charge it for 5 hours. Please use the charger provided by HITWAY.
This product is rated 5.0 of 5.0 stars.
It has received 2 reviews.
The bike and after sales service deserve 5 stars
The bike is beautiful, easy to assemble and very comfortable. I had a small problem with the seat.. it kept reclining back. The supplier's response when contacted was quick and polite… They sent me by mail a small item to be replace and it is working perfect now.
I recommend this bike and this supplier for the quality service and bike!
Thank you 🙏🏼
Sturdy and fast. The range is satisfactory.
Bought it because I needed to put my vehicle in the shop and still had to get to work. Super nice bike. Been to work and back 2 days in a row and this thing is awesome. Super fast and capable. I have a huge hill on the way and it travels upward without hesitation and stays consistent with minimal pedaling. Got the saddle bags as well. They're definitely rain proof and they're spacious as well. The assembly took me about an hour with 2 children distracting me and was not difficult. A bit intimidating at first but as things get unwrapped and put together its easy and fast. Instructions are clear enough and short.