BK11 Folding Electric Bike
High Speed & High Quality Range

The electric bike for adults is equipped with 250W high speed brushless motor, 11.2Ah/36V lithium battery. BK11 top speed reaching up 25km/h. The e-bike can travel 35-90KM per full charge, and the battery is removable for indoor charging.

Professional 20" Fat E-Bike

The adult electric bicycles employ 3.0 professional tires and dual suspension, which are wear-resistant and puncture-proof with good shock absorption. Whether in the city or in the mountains, HITWAY can provide you with a comfortable riding experience.

Foldable Design

HITWAY electric bike is made of high quality aluminum alloy. Weighing about 25.8kg, it is sturdy and durable while providing faster riding speed. The foldable design is easy to carry and can be stored in your car or at home, so you can start your riding journey at any time.

Advanced Features

The HITWAY ebike's multi-function LCD display gives you full information about your ride. You can keep track of the battery condition and driving conditions, showing your speed, battery level, distance travelled. And select the level of assistance as required.

Complies with EU/UK road regulations

The BK11 Electric Bike is a reliable choice for those seeking a safe and legal rides, as it complies with all EU and UK road regulations and carries the necessary product certificates. Currently the BK11 is the one with the throttle removed. If you need to use the throttle, you can purchase the throttle accessory in HITWAY website.
The BK11 Electric Bike * 1
Battery * 1
Battery Charger * 1
16 in 1 Simple Tool * 1
Quick Operation Guide * 1
User Manual * 1
Bicycle Locks * 1
Bicycle Pumps *1
Customers may apply for a return or exchange within 30 days after receiving product(s). Refunds will be made by the same method you used to pay.
Compliant with EU/UK road regulation

Since the launch of HITWAY E Bike, We have listened to more demands from customers. From 2023, we will Launch compliant electric bicycles, which you can ride on public roads. As a result, the original pure electric model has been removed.
Local delivery in the EU and UK
Long range, foldable, Fat-tire ebike
HITWAY BK11 folding e-bike. 20*3.0 Fat tire. for all your riding needs in all road conditions.
REMOVABLE BATTERY
Covering a range of 35- 90km per full charge.
Safe and Convenient to bring home or office to recharge.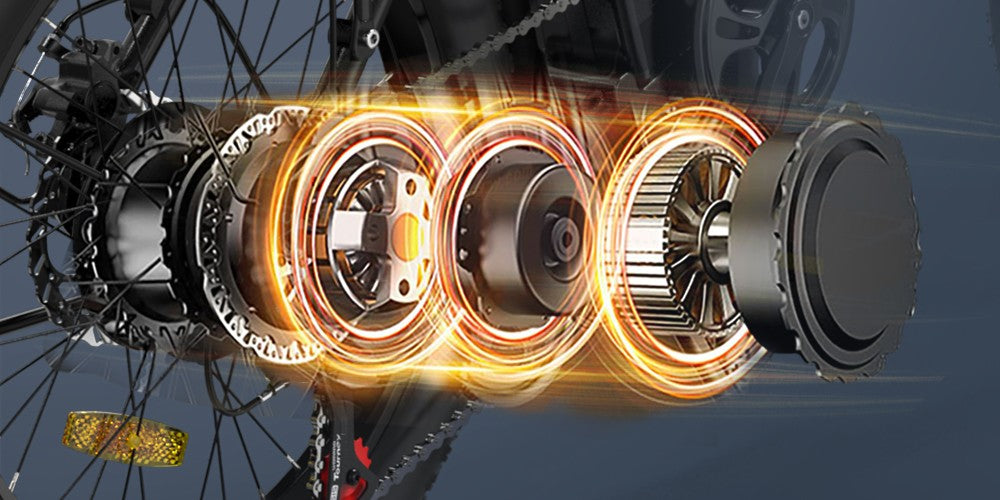 CONQUER ALL TERRAINS
Provide good ride performance with
20*3.0 fate tire, pedal-assist system and 250W reliable motor.

SHIMANO SHIFT SYSTEM
Equipped with Shimano 7-speed transmission, BK11 can easily handle almost all terrain features and provide good riding performance.
DUAL DISC-BRAKE SYSTEM
The sensitive brake system with the front and rear disc rotors can realize strong braking and provide sufficient security for your travel.
ANTI-SLIP FAT TIRE
Provide you with more comfort. The 20*3.0"fat tires meet all your riding conditions, ride comfortable and easy to control balance on city road or rugged road.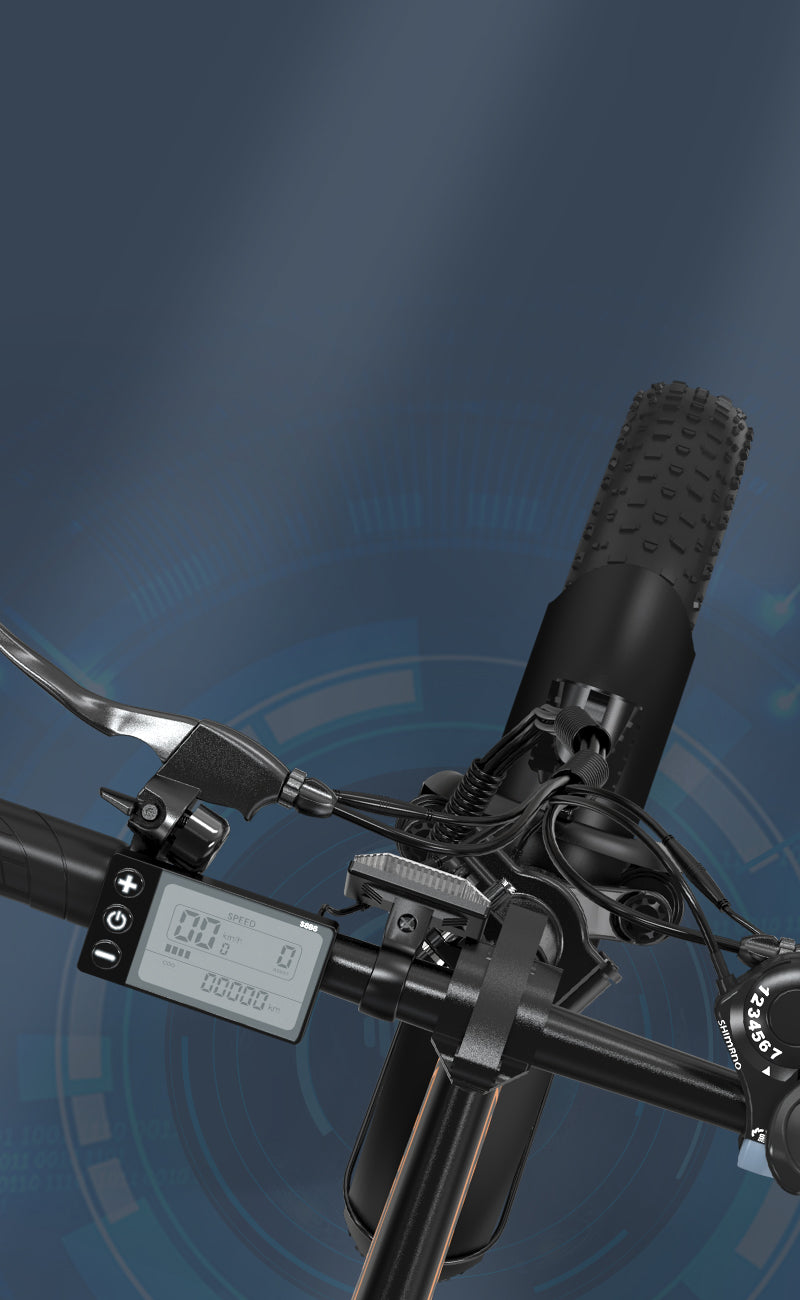 MULTI-FUNCTION DISPLAY
Real-time display of riding information, batterypower, riding mileage, speed, gear, etc.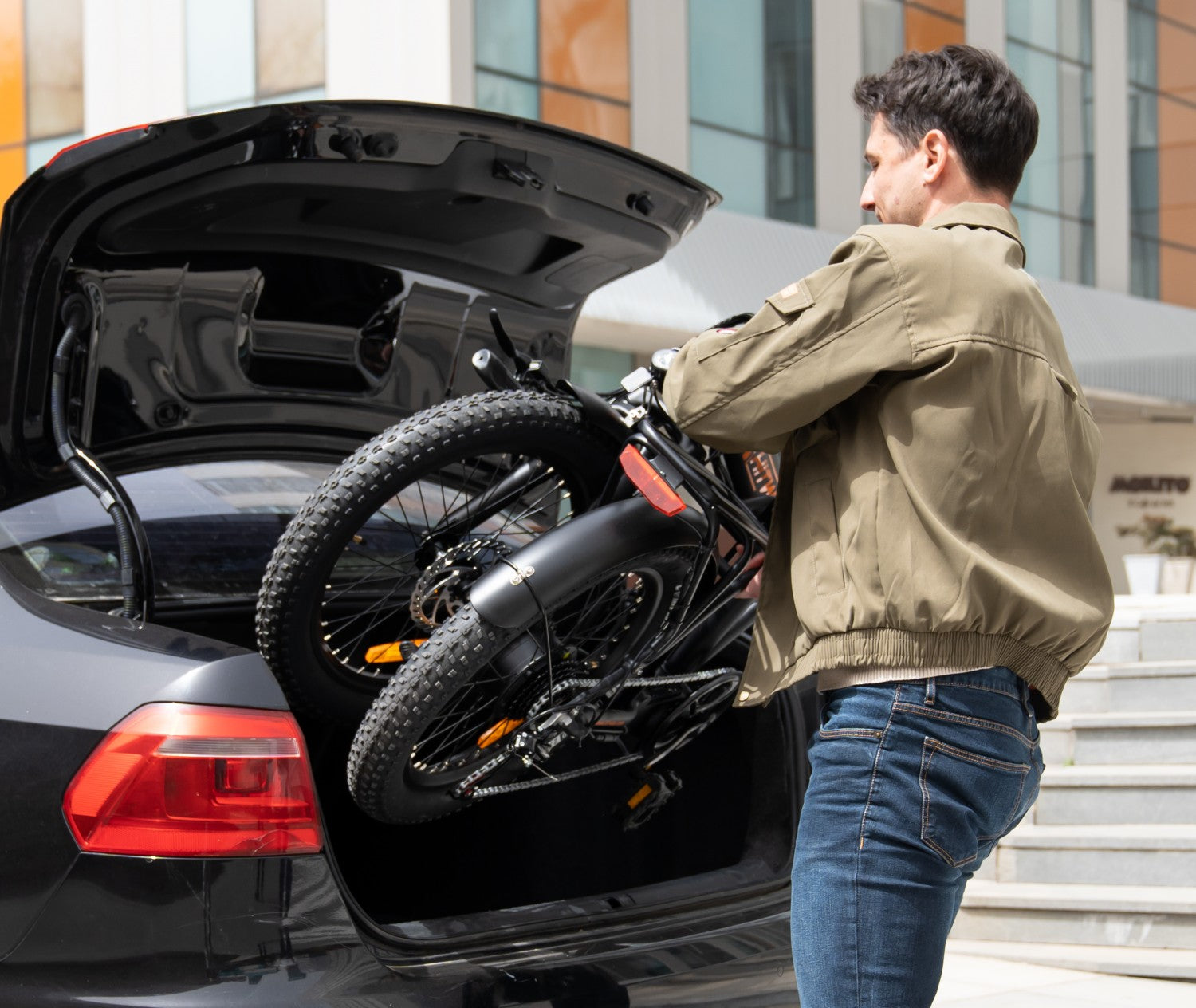 LIGHTWEIGHT FRAME
The folding design in the body allows you to quickly fold and store in the trunk or at home, saving time and space.
Folding : 900mm* 500mm*740mm
Unfolding : 1700mm*560mm*1200mm
More Details
Safety Lighting System
Ride with confidence and safety with HITWAY high-performance headlight.
Saddle
Comfortable and adjustable saddle to suit different heights.
Handle Bar
The ergonomic design of the handlebar allows you to ride comfortably.
Gross/Net
31.7kgs/25.8kgs(69.89lbs/56.87lbs)
B
Handlebar Height
87-105cm
G
Handlebar Length
59.5cm
FAQ
We have compiled a list of frequently asked questions about this product. If you have any questions, please feel free to contact us.
What is the difference between BK6S and BK11?

The BK6S and BK11 have the same motor power, battery and tyre width. the BK6S has one piece tyres and the BK11 has spoked tyres. In terms of the height of the user, the BK11 is more suitable for men.
Can your ebike be used legally on the roads of my country?

Since the launch of HITWAY E Bike, We have listened to more demands from customers. HITWAY ebikes are road-legal in Europe and the UK because we have removed the throttle (moped mode) and our ebikes do not exceed 25km/h. So you can use them on public roads.
If you need to use the moped mode on non-public roads, you can purchase the throttle to suit your needs.
Do I need to charge my e-bike after receiving it?

Yes, after you have received your bike we recommend that you charge it for 5 hours. Please use the charger provided by HITWAY.
This product is rated 4.7 of 5.0 stars.
It has received 7 reviews.
Perfecta
Envío rápido y bien empaquetado. Fácil de montar. Aspecto robusto y de buena calidad. Sillín muy cómodo con suspensión. Visor bien visible y sencillo de usar. Sistema de para motor al frenar perfecto.
Hitway BK11 Folding e-bike
The bike itself is fantastic - loving it. However the instruction manual / brochure that accompany it are awful - tiny pics that I couldn't make out properly and as such the bike took longer to put together than it should have.
Needs to up the speed for US model but I love it non the less
s mentioned in title. I think they need to up the speed considering it is a 750W motor 15AH which can definitely push out more power but seems constrained. I would love for them to make it have directionals instead of having to buy aftermarket seat blinkers. Maybe actually use the light with the "Horn" instead of just the light, however I do like the new light with the very bright halogen lumen headlight. Other than that I have anyone who sees it ask about where/when /how can they buy one. As you can see I added alot of gadgets such as real side mirrors as well as a rearview electric camera so I don't have to take eyes off the road. I'd like to see what they do on the next 2 years if they take some advice in consideration.
Very good value for money
I bought a BK11 for myself and a BK8S for my wife. Assembly is very easy and does not require any special means. It's very practical to use, and the electric assist lasts long enough. I bought this Electric Bike mainly for commuting to work, and it played its function perfectly, so that I no longer sweat profusely at work.😁
BK11 Folding Electric Bike