H5 Electric Scooter
➽Powerful Performance:The 500W motor could provide strong and stable power for this electric scooter. This model scooter could cover a maximum range of about 30km. There are three speed modes to meet different needs. In addition,if you want to keep one fixed speed, just turn on the cruise control mode.

➽Upgrade Design: There is a mechanical key to turn it on / off to make scooter safer. The body folding lock design makes impossible to fall off during the trip and ensure user safety. Equipped with dual disc brake system, effectively shortening the braking distance,which also improve safety.

➽Warning Lamp & Electric Horn:LED high-brightness headlight and colorful sideways turning warning lights can be controlled by switches and electronic horn/warning rear light could remind vehicles ahead /behind to keep a safe distance, which ensure safe passage day and night.

➽Multiple Shock Absorption: This electric scooter adopts 10" soild tires(new products), high elasticity and wear resistance. Front and rear dual hydraulic shock absorption offer you a more comfortable travel.

➽LCD Display & Fault Self-detection: Smart LCD meter, improved night visibility, you could find speed, indicator of battery/ headlight/ cruise indicator/gear/ total mileage, etc,.Built-in fault self-detection,you also could determine the fault by parameter code.

➽Kind tips:Before using it please read the manual carefully and we recommend wearing protective gear and a helmet while riding.Due to it is a large package, if the product you received is damaged in transportation, please kindly contact us asap, and we will reissue the accessories in time.

➽Notes: 1.the seat is a gift for customers to have greater using experience, if you don't need it, you could remove it, if you need video guidance, please contact our customer service.2.Please check the scooter before every use. When you note loosen parts(such as screws), low battery alerts, excessive wear, strange sounds, malfunctions and other abnormal conditions, stop riding immediately and contact our professional support.

➽Notes: Maximum range of about 30km.(The load is 70-100 kg, and the actual use may vary depending on the road conditions. The higher the weight, the lower the speed and mileage. The maximum speed and mileage depend on the user's weight, road conditions, battery consumption, etc.)

WARNING: The H5 and H5 PRO do not comply with German road laws and are not ABE certified. If you need to use your scooter on public roads, please check out the H5 ABE product. We do not accept returns for this reason.
The H5 Escooter * 1
Charging adapter * 1
Tool Kit * 1
Quick Operation Guide * 1
User Manual * 1
Customers may apply for a return or exchange within 30 days after receiving product(s). Refunds will be made by the same method you used to pay.
Compliant with EU/UK road regulation

There may be local legal restrictions relating to the use of this product on roads, footways, cycle lanes, or in other public areas, such as license, plate, safety helmet, and driving restrictions. For example, e-scooters are prohibited from use in any public road or space in the UK. Please check before you buy and use this product. See more details.
Local delivery in the EU and UK
Foldable Design
One-step Folding System is Easy to Carry and Easy to Storage.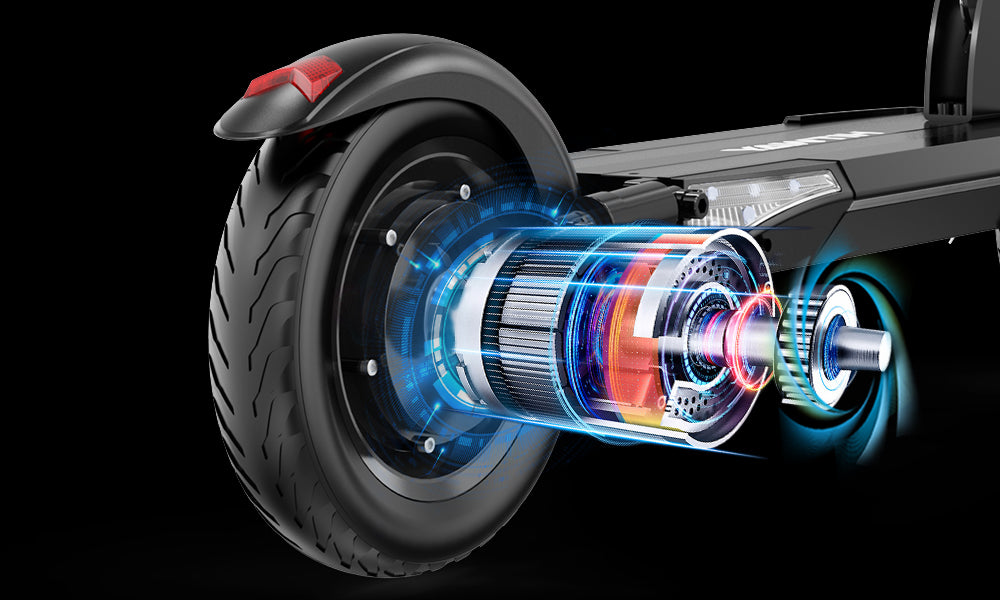 500w High Power Brushless Motor
We focuses on providing highly innovative technology, high quality and safety product, advanced design for customers. Equipped 500W motor, strong power output, easy climbing.

Safe Night Driving
The electric scooter is equipped with a powerful LED headlight and rear light which can move safely in a dark environment.
Long press the M button, the lights on both sides will light up.

LCD Display
Smart LCD meter, improved night visibility, you could find speed, indicator of battery/ headlight/ cruise indicator/gear/ total mileage, etc,.
Maximum Speed(Low speed mode)
Maximum Speed(High speed mode)
Compare
HITWAY Escooter Specification
We offer 3 versions of our electric scooters. You can use this table to compare them. One of them, the H5 ABE, is specially designed for German customers and is allowed to be road legal on German roads. If you are located in a non-German region, you do not need to buy the H5 ABE.